DAVID BERGMAN
David Bergman runs a multidisciplinary design studio embracing architecture, interiors, product design and research. In his over 25 years of experience, his work has evolved to have an emphasis on the inclusion of sustainable/eco design principles. He has become an expert in the field, frequently teaching, speaking and writing on topics in sustainability.
The architecture and interiors practice undertakes a wide range of residential and commercial projects including renovation, interiors and new construction. Designing for both environmentally-aware and "conventional" clients, Bergman's work incorporates what he terms "Transparent Green," the seamless merging of eco design with the individual needs of each project, resulting in designs that are effortlessly green.
Fire & Water, Bergman's lighting company, was initially created to produce custom designs for clients over fifteen years ago and has since grown to include several lines of award-winning light fixtures. Sustainable design has become a core part of Fire & Water's emphasis, uniquely exploring the combination of emerging energy-efficient light sources with new applications of green materials and finishes. The designs have been acclaimed by The New York Times, Metropolis, ID, Wallpaper*, Architectural Record and many other publications.
Bergman teaches at Parsons the New School for Design where he has developed core sustainable design courses for four departments. He was also the co-creator of "Educating the Educators: A Crash Course in Ecodesign," a program to bring sustainable principles to design schools throughout the country. In 2005, he created and taught an interdisciplinary seminar at Yale on the emerging topic of the mainstreaming of green design, exploring his concepts of Transparent Green.
He is currently working on several books in areas of ecodesign and sustainability. Sustainable Design: A Critical Guide will be published by Princeton Architectural Press in Spring 2012. He is a frequent contributor to the USGBC's Green Home Guide website as well as other sites.
Bergman co-curated and produced "Assignment: Green," an important exhibit and conference at the Municipal Art Society focusing on sustainable design education in New York City colleges. He is an executive board member of the ecodesign organization o2/NYC, a board member and past president of Furniture New York (an organization of New York designers and manufacturers), and an executive board member of the Designers Lighting Forum of New York, as well as a member of several other civic and green design organizations.
David Bergman received a Master in Architecture from Princeton University, and a Bachelor of Arts in Architecture and Economics from Yale University. He is a New York State Registered Architect and a LEED Accredited Professional®.
LORI GREENBERG
Creative Director Lori Greenberg has been designing and writing for over 20 years. Her work has encompassed the arenas of fashion, cosmetics, toys, licensing, book publishing, corporate imaging, branding and web design. Her design and writing has appeared on the pages of WWD, W, Woman's Day, SohoZat, and also in the books East Village '85, Soho: A Guide, A Documentary, and Land & Sea: The Indonesian Archipelago.
Her work has also appeared on the websites UBO, IndiePlanet and Adios Barbie. Clients have included Di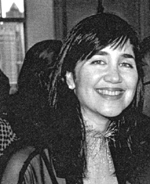 sney, Mattel, Warner Bros, Fiorucci, Faberge, Bed Bath & Beyond, Wolf-Gordon, Bette Midler's NY Restoration Project, the Municipal Art Society, The MacDowell Colony, Amazon Conservation Association (ACA), and, in conjunction with Hartnick Consulting, New York Presbyterian Hospital, NYC Department of Small Business Services (SBS), Philanthropy for Active Civic Engagement (PACE), Asian American Business Development Corp (AABDC), Schlam, Stone and Dolan LLP, and Arcadia Aviation.
Working on fundraisers and events prompted Greenberg to push her clients towards environmentally friendly gifts and giveaways, rather than the standard goodie-bag throwaways. The result is her eco gift consulting company, Swagologie: green gifts for the corporate world.
She previously worked as a Creative Director/Producer at UBO, developing various online animated series. She has performed readings of her work at such venues as NoSeNo, Little Club 57, The Pyramid Club, The Library Lounge/The Telephone Bar. She is also the creator of The Restricted Foodie, a humorous blog about being a woman of food, in spite of an insidious array of food allergies, and is a frequent contributor to Bowery Boogie.
Greenberg received a Bachelor of Fine Arts from Parsons School of Design. Though her design style ranges far and wide, she has also been anointed (in the New York Post) as the "Queen of Kitsch" for her vintage collections of toys and accessories.